Making Way for The Future of The Rise in Cupertino
The Rise —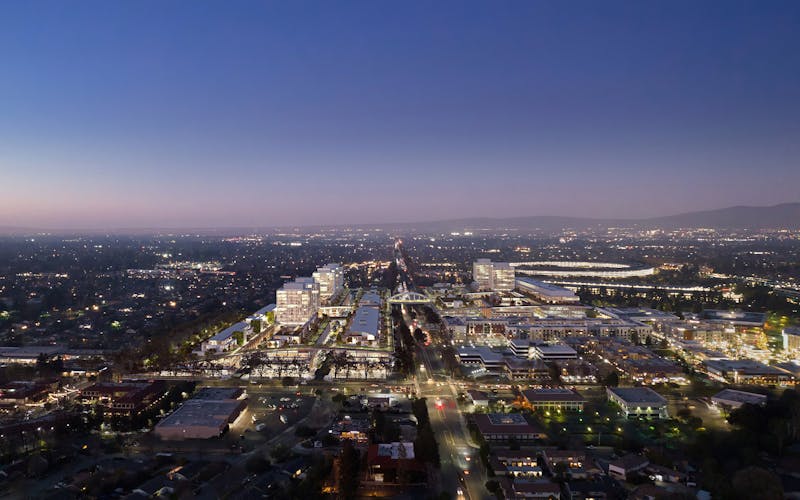 Demolition of the former Vallco Shopping Mall began in late 2018 after decades of decline. To date, the structures west of Wolfe Road have been demolished, resulting in a vacant parcel. A pad building east of Wolfe Road and the bridge spanning the east and west portions of the site have also been demolished. Make-ready work, with a primary focus on utility upgrades and repairs to the Perimeter Road tunnel beneath Wolfe Road, was permitted in 2020 but is still pending, having been stopped twice: once so as not to disturb a homeless encampment and again recently to allow for completion of County oversight relating to clean-up of contaminated soil.
While the schedule is important, throughout demolition and construction work, human, health and public safety has been the project's top priority. Work during the pandemic has been closely coordinated with City and County officials to ensure all safety protocols are met. The Rise continues to partner with the City of Cupertino, CalOSHA, Bay Area Air Quality Management District, and the California Department of Environmental Health (DEH), as well as other local and state authorities, in frequent reporting updates and site visits to review our operations, which have consistently been found in full compliance of all regulations and required practices.  
Utmost consideration has been given to project neighbors, including frequent construction updates, a 24-hour hotline, and quick response times to concerns. The removal and relocation of trees has been closely coordinated with the project team, city arborists, and neighbors as necessary, and special care programs have been employed to keep trees healthy. These additional measures far exceed code and legal obligations because The Rise has high standards of safety, work quality, and respect for the community.
With over 33 acres of land cleared and multiple construction permits already issued, The Rise will soon start to take form.